Tailored Approach to Keep Your Business Running Smoothly
As a partner Seacoast Business Funding is dedicated to finding the right Accounts Receivable Factoring or Asset-Based Lending solutions for business-to-business companies with over $1 million in revenue.  Through our quick, efficient, and fully transparent process we help businesses thrive.  As a division of a bank, Seacoast Business Funding is able to offer stable access to capital that scales with our clients evolving needs.
Seacoast Business Funding is Your Trusted Asset-Based Lending and Accounts Receivable Factoring Partner
With quick access to decision makers we are able to react and fund quickly.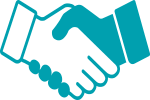 Our team has over 30 years of experience in the Factoring and Asset Based Lending industry.

Custom working capital solutions for complex financial challenges.